What to Choose: Nearshore Outsourcing Mexico, Costa Rica or Ukraine?
The landscape of the outsourcing industry is changing drastically. The nearshoring-model of outsourcing is taking over the offshoring-model. The concept of a nearshore development center in the software industry is getting traction in all sizes of companies globally.
The nearshoring definition offers great benefits in terms of cost, quality, convenience, and competitiveness to the clients located in the proximity of the nearshoring destinations. Let's talk about the emerging nearshoring destinations around the European and North American countries. As businesses compare nearshore outsourcing options in Mexico, Costa Rica, or Ukraine, it's essential to consider other potential destinations, such as software development companies in Brazil, which offer an additional choice for high-quality talent and competitive costs in the global outsourcing market.


Nearshore Outsourcing Mexico and Other Latin American Countries
Latin American countries, especially Mexico, Costa Rica, and others have become new hubs for the nearshoring because of their geographical proximity with the USA, and major countries in Western Europe. According to the Global Innovation Index 2019, Costa Rica and Mexico have a ranking of 55th and 56th respectively. The nearshore Mexico industry is growing rapidly. The business process outsourcing BPO is growing at about 9.3%. The information technology outsourcing ITO industry of nearshore outsourcing Mexico is growing at about 7.3% annual growth. The ITO growth of Costa Rica is a whopping 17.4% annually. The major countries that are growing becoming major destinations for the outsourcing industry include Brazil, Colombia, and Guatemala.
Demand for Nearshore Software Development Mexico
The demand for nearshore software development Mexico has increased tremendously due to numerous reasons such as availability of tech-talent, proximity to the US, competitive prices, bi-lingual workforce, the similarity in culture, and overlapping time-zone. The major countries that choose Mexico as one of the preferred destinations for nearshoring services include the USA, Canada, UK, Switzerland, Spain, France, and others. These countries also choose other outsourcing destinations like the nearshore Ukraine services, which offer very competitive benefits to the outsourcing clients.
The Popularity of Nearshore Outsourcing Costa Rica
Costa Rica ranks top in exporting the value-added services in entire Latin American countries. The nearshore software development Costa Rica has become one of the top trends in the companies based in the USA and Europe. The major companies operating in Costa Rica include Accenture, Amazon, Infosys, and others employing over 61,595 employees in the IT and services sector. The share of the services sector in the overall country's export is about 44% in which the share of nearshore outsourcing Costa Rica is substantially high.
Nearshore Mexico Vs Nearshore Outsourcing Costa Rica Vs Nearshoring Ukraine
The nearshoring model is overriding offshoring and new hubs of nearshoring are emerging in Latin America, Eastern Europe, and other technologically emerging regions. Fierce competition in Latin American countries and Eastern European countries is growing. Nearshoring Ukraine is becoming a major outsourcing destination for major countries like the UK, Germany, and Scandinavian countries due to geographical proximity and cultural similarities.
Costa Rica 
The nearshore outsourcing Costa Rica has become an attractive destination for nearby countries like the USA, UK, Spain, and other European countries.
An intra-region competition between Latin American countries like Mexico, Costa Rica, Brazil, Argentina, and others have also swelled significantly.
Quality education and technically skilled workforce.
The cost of software developers in Costa Rica is about $21,372 per annum, which is almost similar to the cost of developers for nearshoring in Ukraine.
Costa Rica is one the most attractive destination for nearshoring, especially for the companies located in the USA, but it may not be able to maintain its position in the future due to a small population of under five million people, as pointed out in LAT-AM Resource digital magazine.
Mexico 
The major difference among outsourcing in Ukraine and the outsourcing in Latin American countries like Mexico and others is the location and living cost.
The living cost makes the hourly rates in Latin American countries a bit higher than the Ukrainian one.
Nearshore outsourcing Mexico has a big advantage due to its geographical location, which shares borders with the USA.
It has established new technical institutes and universities sponsored by the government as well as non-governmental organizations that encourage the young generation for software development.
The country's reputed technical institutes are producing a large number of engineers and software developers, which is an attractive product for the companies headquartered in Silicon Valley.
Ukraine 
The software engineers and IT experts in Ukraine are considered as highly creative, composed, and solution-oriented.
The Ukrainian universities produce thousands of highly qualified developers, engineers, and programmers annually to continuously enhance the tech-talent pool.
Nearshoring Ukraine is powered by a huge pool of tech-talent like software engineers, developers, and IT experts. The country has a pool of hundreds of thousands of software developers at work and thousands are graduating every year.
The price offered by nearshore Ukraine services is highly reasonable as compared to many other destinations, especially a few competitor countries in Latin America.
The similarity in culture is another major plus.
Proficiency in English.
Great work ethics.
Nearshore Outsourcing Cost Comparison
Nearshore-outsourcing costs in Mexico, Costa Rica, and Ukraine are listed below.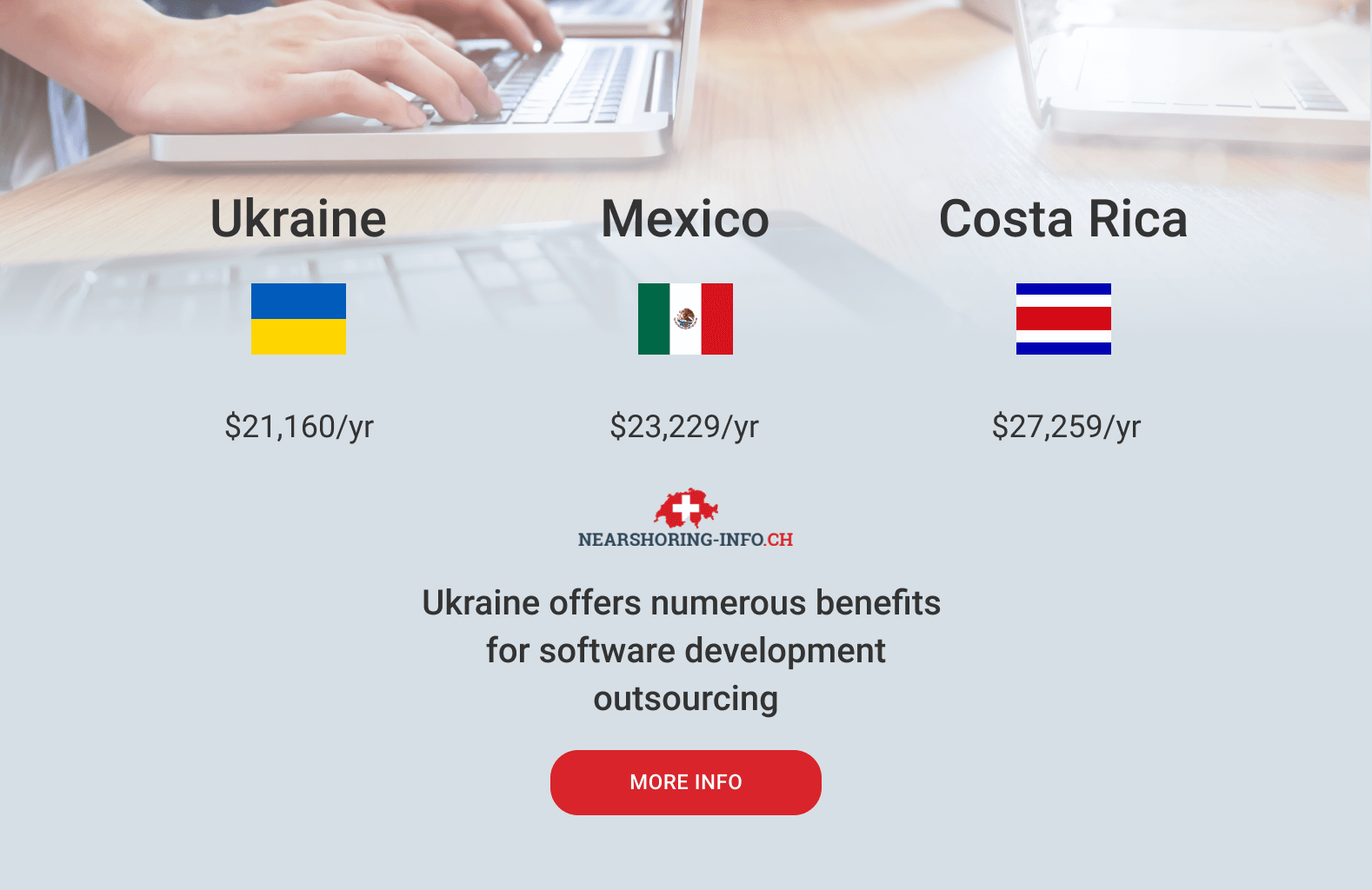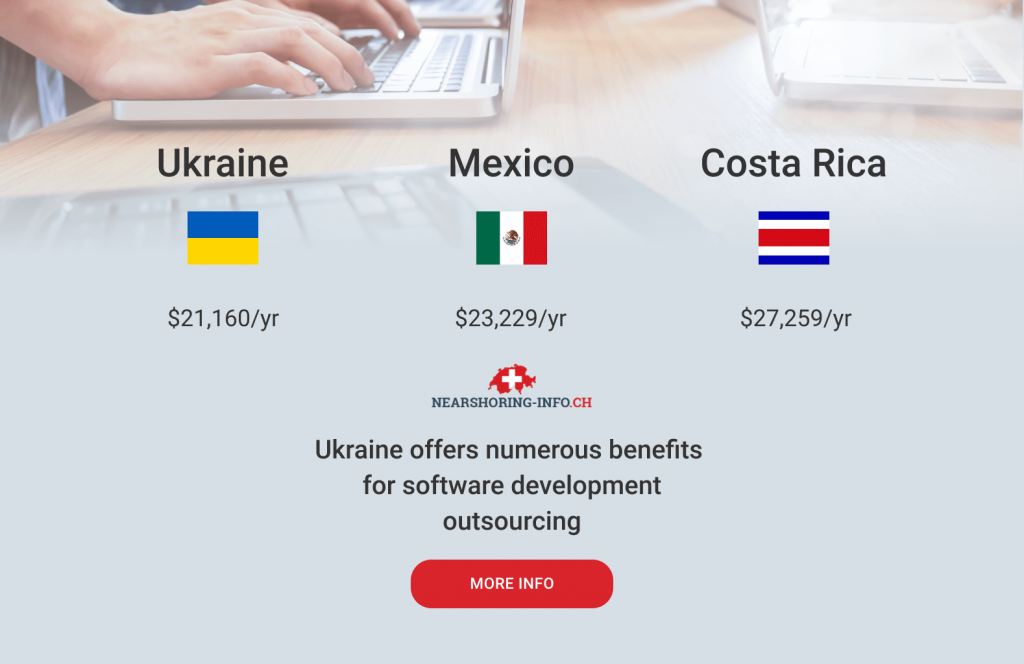 Average software developer salary in Ukraine is $21,160 per annum
Average software developer salary in Mexico is $23,229 per annum
Average software developer salary in Costa Rica is $27,259 per annum
The average salary of a software developer in Ukraine is the lowest as compared to Mexico and Costa Rica. Ukraine also shares almost similar kinds of desired benefits like convenient location, quality of work and solution-oriented approach to the problems. So, Ukraine is a much better option than many other destinations for outsourcing.
Top Benefits of Choosing Nearshoring Ukraine
Nearshoring Ukraine offers numerous benefits to the companies that outsource their software development to Ukraine. The top 5 benefits are listed below.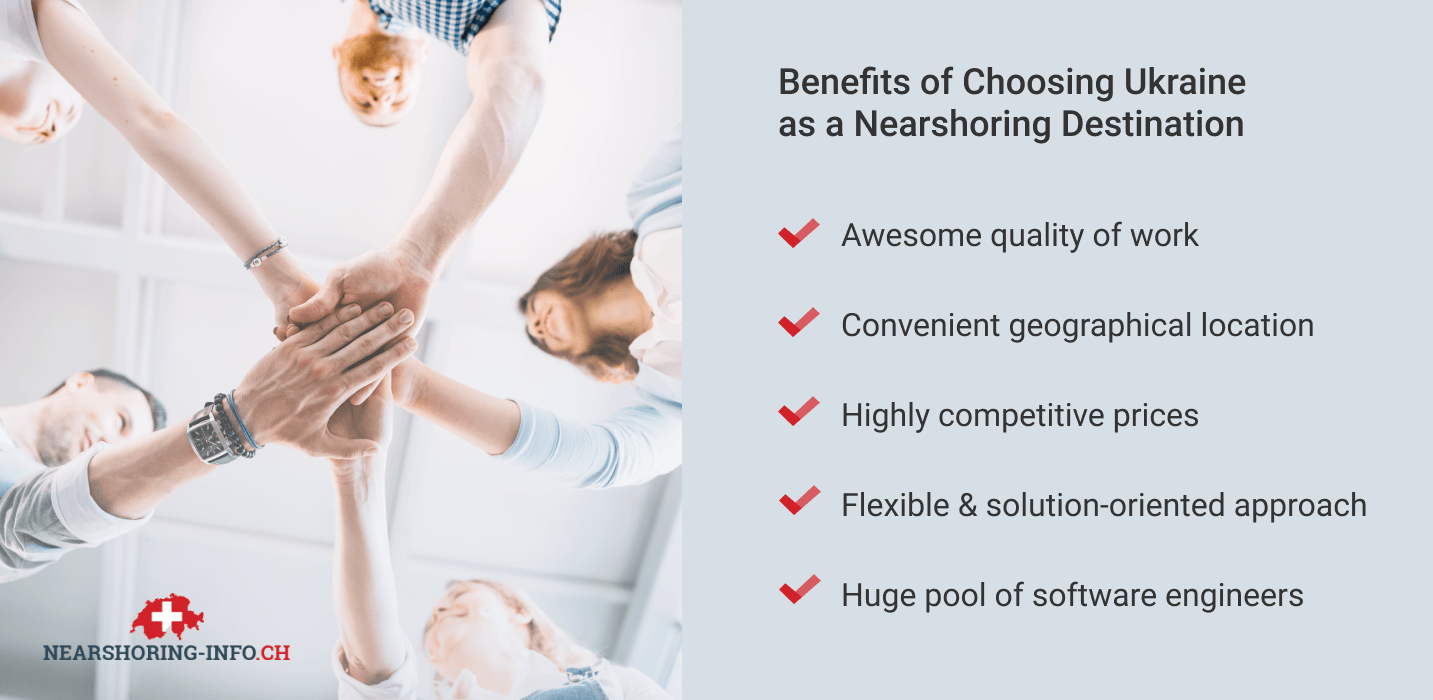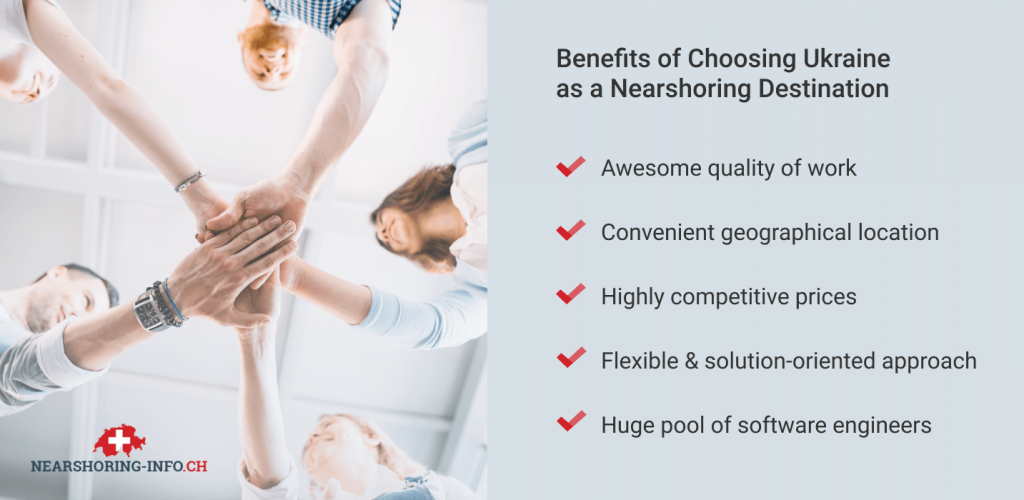 Awesome quality of work – Ukraine is home to a highly-skilled, qualified, and creative pool of tech-talent that offers a great quality of work, especially in the software development and IT project management.
Convenient geographical location – Ukraine is situated in Eastern Europe, which is a few hours from all major European countries. Due to great connectivity, clients from the US can also reach conveniently within a few more hours.
Highly competitive prices – Nearshoring in Ukraine offers you highly competitive prices as compared to many of its competitors across the world.
Flexible & solution-oriented approach – Ukrainian's are very flexible in working hours to offer the perfect solution to the clients that they deserve. Ukrainian culture is similar to that of Europe and North America.
Huge pool of software engineers – Ukraine has one of the largest pools of developers and engineers in the region.
Final Thoughts on Outsourcing in Ukraine and Mexico
Ukraine, Mexico, and Costa Rica are top emerging markets for nearshoring of software development because they offer competitive prices, better quality, convenient geographical location, and powerful pools of tech-talent.